Covid-19 Teacher Resources - Resources for on-line teach­ing and help­ing stu­dents learn from home — espe­cial­ly deal­ing with stress.
Stress Man­age­ment for Teach­ers: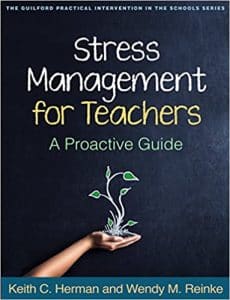 Stress Man­age­ment for Teach­ers by Kei­th C. Her­man & Wendy M. Reinke
An evi­dence-based book and webi­nar series for reduc­ing teacher stress and improv­ing their emo­tion­al health. Teach­ing is a high­ly stress­ful pro­fes­sion, and the pro­gram equips teach­ers with psy­cho­log­i­cal cop­ing skills for inside and out­side the class­room. Teach­ers who par­tic­i­pat­ed in an eval­u­a­tion of the pro­gram report­ed low­er stress, improved cop­ing, and reduced men­tal health symp­toms of anx­i­ety and depression.
Webinar Series
Colleen Eddy recent­ly adapt­ed the pro­gram into an online webi­nar series with­out the book or in per­son train­ing. To begin, watch the 90-minute overview webi­nar below. The remain­ing webi­na­rs are divid­ed into three parts, Adap­tive Think­ing, Adap­tive Behav­iors, and Long-Term Plan­ning. We rec­om­mend that you com­plete one of these parts, in order, every week after com­plet­ing the overview webinar.
Adap­tive Think­ing Webi­na­rs:

The first part of the rec­om­mend­ed prac­tice is to watch the Adap­tive Think­ing Overview. After watch­ing the overview video, pick at least one of the remain­ing videos to learn about a spe­cif­ic strat­e­gy. The Positive/Negative thoughts method is from Chap­ter 5 in the book (refram­ing neg­a­tive thoughts form). The ABC Method is from Chap­ter 6 in the book (ABCDE form).

Adap­tive Think­ing Overview: https://www.youtube.com/watch?v=6FVNSMdBGas
Positive/Negative Thoughts: https://www.youtube.com/watch?v=YaxMstIHG7U
ABC Method: https://www.youtube.com/watch?v=sVltXLL650Q
Adap­tive Behav­ior Webinars:
The fol­low­ing videos have con­tent from Chap­ters 7 & 8 from the book. The first two videos are about the Adap­tive Behav­iors chap­ter. You can learn about gen­er­al adap­tive behav­iors or relax­ation skills.

The third video is about increas­ing com­pe­tence and self-effi­ca­cy, espe­cial­ly relat­ed to man­ag­ing stu­dent behav­iors. This comes from Chap­ter 8 from the book. You can also check out the Class­room Check­up web­site for more infor­ma­tion: http://classroomcheckup.org/
Adap­tive Behav­iors: https://youtu.be/bFItkTNC73o
Relax­ation Strate­gies: https://youtu.be/h4VFaR10iWQ
Com­pe­tence & Self-effi­ca­cy: https://youtu.be/8VjSwfL5GU4
Long-Term Plan­ning Webinars:
This is the third and final online les­son for the Stress Man­age­ment pro­gram. Please watch this video with Dr. Kei­th Her­man, one of the cre­ators of the pro­gram, about cre­at­ing a good per­son­al devel­op­ment plan.
If you're inter­est­ed, also check out the video about Get­ting to Good/Beyond Sur­vival. In this video I'll talk about the mate­r­i­al from Chap­ter 9 about strate­gies for improv­ing well­ness beyond stress man­age­ment. A prac­tice form for this chap­ter is the "My Life Pie"
Get­ting to Good: https://youtu.be/1tquf5VAj7w
Long term planning/MI:https://youtu.be/eLO38bWkwOA
Hand­outs for Online Lessons:
COVID-19 Update Webi­nar — Using Strate­gies from the Stress Man­age­ment Program:
Colleen Eddy recent­ly cre­at­ed a webi­nar for using strate­gies in the teacher stress man­age­ment pro­gram to cope with COVID-19 relat­ed stres­sors that many teach­ers are expe­ri­enc­ing now. Click here to watch: https://youtu.be/HuFK4JdtTAY
Inter­view of Dr. Kei­th Her­man by Dr. Melis­sa Stor­mont on teacher stress & Covid-19:
Teacher Stress: https://www.youtube.com/watch?v=rZVcqZrKimQ
Quick Sheets for Suc­cess­ful eLearn­ing Class­room Man­age­ment:
STOIC: The acronym STOIC is used to describe five key ele­ments of effec­tive class­room man­age­ment and school-wide behav­ior improve­ment strate­gies (Sprick et al., 2009).

One-page sum­ma­ry of 7 tips for apply­ing STOIC prin­ci­ples in e‑Learning
More detailed exam­ples of apply­ing STOIC in e‑learning
CHAMPS: Use this one-page form to help estab­lish your online learn­ing expec­ta­tions for students:
PBIS: Tips for cre­at­ing an eLearn­ing behav­ior expec­ta­tion matrix:
Great Resource Web­site for Teach­ers & Par­ents — Check out link below:
Addi­tion­al Resources — Here is a list of books authored by mem­bers of the MPC:
Moti­va­tion­al Inter­view­ing for Effec­tive Class­room Management
Coach­ing Class­room Management
Class­room Check-Up Feed­back Form
COMING SOON: Tier 2 inter­ven­tions: Aca­d­e­m­ic and behav­ior sup­ports for stu­dents at risk for failure